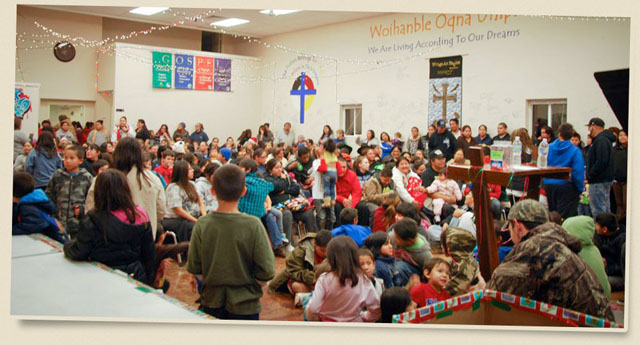 Many difficult years of leasing tribal buildings and ministering in the rugged terrains of a tri-state region have motivated the vision and mission of a "dream center," a place a refuge, relief, and rural community development for the weary and broken people of the Oglala Lakota tribe.
Le-Hocoka Tawoehanbli Un Waziahanhan
("The Dream Center on Pine Ridge" in the native Lakota language)
Not long ago, The Dream Center on Pine Ridge was just what the name implies: a dream. This rural community development mission and project was realized in 2009 when the main building was raised on the 114-acre grounds purchased the year before. The first phase of construction features a 6,500 square foot temporary sanctuary, a storehouse, offices, a distribution center, kids' classrooms, an outdoor basketball court, playground, kitchen, bunk house, bath house, and RV hook-ups; all of which can be enjoyed at The Dream Center today.
The Dream Center:
Rural Community Development
Kingdom Building Projects
Breakout
Star Kids & Sparkle